To qualify for a Metro Ford Fleet Account, your business should have 5+ Company Vehicles.
If your company has <5 vehicles, please look at our Small Business Information Page.
Experience
Metro Ford's Fleet Staff have the experience and knowledge to assist you with the acquisition of your company's next vehicle.
Our team has been serving Calgary businesses for a combined seven decades.
These clients include organizations in Telecommunications, Oil and Gas, Construction, Contractors, Agriculture, Transportation and Distribution, and Government (Municipal, Provincial, and Federal).
---
One Stop Shop
Metro Ford can sell and lease all commercially available vehicles.
We service all makes and models.
Vehicle Disposal – Metro Ford will buy your vehicles or remarket them on your behalf.
---
Financial Solutions
Commercial clients have access to the highly flexible payment plans, including Pre-Paid Leasing, Metro Ford Leasing, and Ford's Commercial Leasing.
Commercial Clients can receive a line of credit for up to $2M.
To simplify the payment process, we can consolidate your billing from the Sales, Parts, and Service Departments
---
Vehicle Modifications
If we don't provide a specific vehicle modification or accessory in-house, we will arrange it on your behalf.
Using a network of affiliates, Metro Ford can will ensure that you receive appropriate vehicle modifications or upfittings to meet your business needs.
---
Nationwide Delivery
We can have vehicles shipped from the factory to any Ford Dealership in Canada.
If that isn't close enough, we will arrange shipping directly to your business.
---
Transparency
No Administration Fees for Fleet Clients.
Fleet Clients receive a factory invoice disclosure with the purchase or lease of every vehicle. You'll know exactly what we are charging you on each sale.
---
Service Priority
We understand that company time is valuable, so we give higher service priority codes to company vehicles purchased from Metro Ford.
---
Metro Ford is a Business Preferred Network Dealer
Metro Ford has been certified as a BPN Dealership by providing an elevated level of service to commercial clients.
Only 20% of Ford Dealerships qualify for Ford's Business Preferred Network (BPN).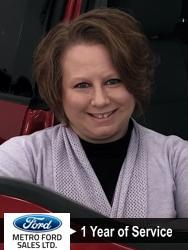 Donna Ebeling
Fleet Sales Department Manager
Clement Wong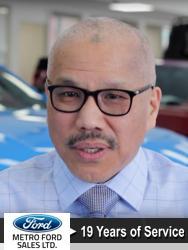 Johnny Lu